West Texas Plants
About Desert Plants
.
Yucca Torreyi, "Spanish Dagger"
USDA Zone 7a (0°F)
The Big Bend variety grows to 20 ft tall with long, stiff green leaves. Heat loving, it requires little to moderate watering and transplants easily. Older specimens commonly sport 2 or 3 heads. Its trunk is smaller than its cousin the "Giant White Dagger". Each head puts out a 3 to 4 ft long stalk covered with cream colored blossoms in spring. This yucca has a characteristic "slightly unkempt" look.
| | |
| --- | --- |
| | "Spanish Dagger" , center |
| | |
| | "Spanish Dagger" , left |




.
Site Navigation Menu
Home Page
Desert Plants Sections
Our Specimen Plants ./..About Desert Plants
Landscaping Images ./..Inventory Images
Related Products
The Alumacart
General Information
Retailers & Wholesalers ./..Trade Shows ./. Contact Us
.
L & L Enterprises presents:
.

We are a proud member of TNLA.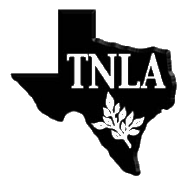 West Texas Plants is a trademark of L&L Enterprises, LLC.
Copyright L & L Enterprises 2001 - Webmaster: Kchisos Enterprises